Food grade water pump is also known as sanitary grade, commonly used Austrian stainless steel, fluorine alloy, ceramic, glass lining, etc. The flow passage parts use ultra-low carbon austenitic stainless steel, and the material used for sanitary pump is different from ordinary material, because the pump material can not only prevent corrosion, but also can not exude harmful elements/substances and can not absorb liquid that may deteriorate. Pumps used for food, beverage and pharmaceutical chemicals must meet different sanitary standards, These standards, which standard the construction, material and cleanliness of the pump, are different from those used in other chemical industries. Pumps used in food and beverage chemical industry must strictly comply with the hygiene rules.
Food is related to the survival and health of human beings. The old saying goes well: disease comes from the mouth. Therefore, each country has its own strict regulations on food-level contact testing. Food-grade small water pumps are no exception and must meet standards. European Union: Since 2005, the European Union has promulgated the latest directive 2004/1935/EC for food contact substances, which has been enforced on October 27, 2006. Since then, food contact materials exported to the EU must comply with the relevant standards of 1935/2004/EC. USA: FDA test, Germany: LFGB test.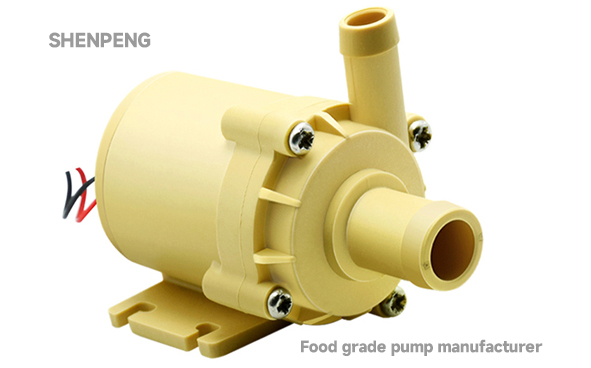 Features of small food grade water pump:
It meets food-grade standards and can work for a long time under 100 high temperatures. Small food grade water pumps include: coffee pot water pump, dishwasher water pump, high temperature water pump for commercial water dispenser, brushless water pump for juicer, water pump for commercial three-room equipment, water pump for household appliances, water dispenser water pump and so on.
1. Compact design, quiet, powerful brushless motor suitable for long-term continuous work
2. Efficient ECM brushless motor with a long life of 20000 hours
3. Advanced magnetic drive technology, static sealing, no leakage
4. Efficient and dynamically balanced impeller, smoother and quieter operation
5. The high reliability of the water pump comes from its unique design. There is only one moving part: the magnetic force drives the rotor/impeller to rotate in a ceramic bearing, so the life of the water pump can be extended far beyond the standard of ordinary pumps in the market.
6. High temperature resistance of 100 degrees Celsius, food-grade materials, heat-resistant materials meet the needs of the food or beverage industry.

food grade pump 12v,small food grade pump,high viscosity food grade pump,food grade transfer pump,stainless steel food grade pump,food grade electric transfer pump