The working principle of axial flow pump
Published:2020-12-24
It is composed of pump casing, impeller and rotating shaft. Also called propeller pump. There are several propeller-shaped blades on the impeller. When the impeller is driven and rotated by the power machine along with the rotating shaft, each blade pushes the water to one end, and at the same time absorbs water from the water source at the other end, so that the water produces a continuous direction parallel to the rotating shaft. Flow, to achieve the purpose of continuous water flow. The water flow pressure is increased by the rotation of the impeller. After the rotating water flow from the impeller passes through the fixed guide vane, the rotational speed is eliminated, and part of the kinetic energy is converted into pressure energy due to diffusion, which pushes the water flow in the pump casing to rise in the axial direction and flow out from the outlet pipe.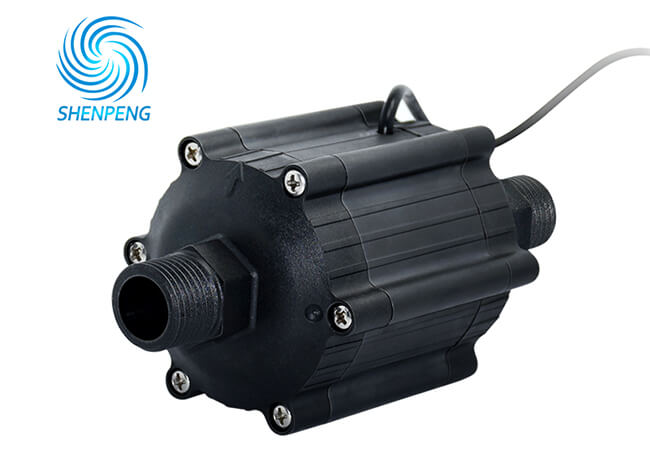 Axial flow pumps are mostly used in occasions with low head and large flow. The head range is about 1 to 25 meters; the flow rate is 2.7 to 60.0 m3/s, and the efficiency can reach 85 to 90.5%. There are three installation methods: vertical, horizontal and oblique. Among them, vertical axial flow pumps are more widely used. The installation angle of the propeller blades on the impeller hub of the large axial flow pump can be adjusted, or the hydraulically driven shaft can be adjusted over time during operation to adapt to the requirements of the head and flow changes and obtain higher productivity, so it is called adjustable shaft Flow pump.
About Shenpeng:
Shenpeng, top1 supplier of BLDC mini pumps in China, has been specializing in the design & manufacture of DC pumps for 15 years. There are 300,000 class dust-free workshops with 3 fully automatic production lines and 5 SMT lines. Annual output is about 3 million pcs pumps. Adopt "Six Sigma", pursue product "zero defect".
Shenpeng has passed IATF16949, ISO9001, ISO14001 and OHSAS18001 and TUV. All products have passed CE, ROHS and REACH. Parts of pumps meet FDA, UL and EMC. Achieved more than 30 patents.