The total sales of new energy vehicles will reach 6.47 million in 2021
Published:2022-02-25
According to authoritative media research, the total sales of new energy vehicles in 2021 will reach 6.473 million units, with an annual growth rate of 122%, setting the highest growth rate since the development of vehicle electrification.
As the largest manufacturer of automotive electronic water pumps in China, Shenpeng has made outstanding contributions to the global new energy market. 60% of the customers in the sales ranking have cooperated with Shenpeng. Let's take a look at the sales ranking and market of each manufacturer.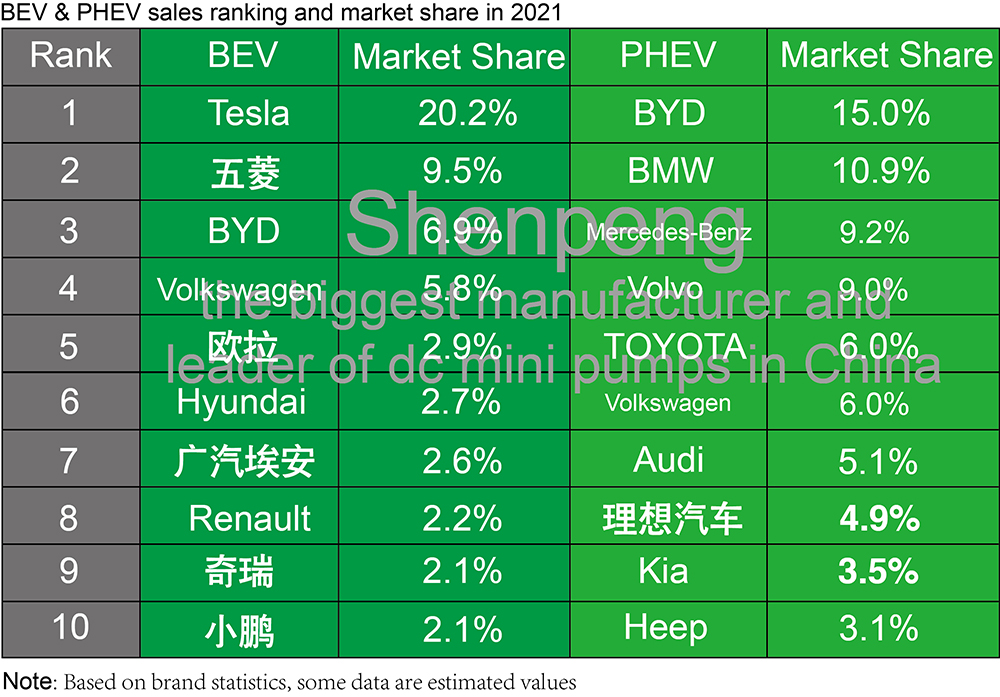 Among them, BEV accounts for about 71.6%, PHEV accounts for about 28.1%, and the scale of fuel cell vehicles is still small. As the global energy conservation and carbon reduction direction remains unchanged, and the proportion of car manufacturers' product lines shifts to electric vehicles, it is estimated that the total number of new energy vehicles will exceed 10 million in 2022.
According to the ranking of pure electric vehicle brands, Tesla's total global sales exceeded 930,000 units, with a market share of 20.2%, ranking first. Ranked second is SAIC-GM-Wuling Automobile, whose low-cost miniature electric vehicles will still have strong sales in 2021. Others such as Ora and Chery have also greatly increased their sales due to miniature vehicles. The influence of this market segment on the new energy vehicle market Big.
electric vehicles,electric cars report pdf,benefits of electric vehicles on the environment,disadvantages of electric vehicles,electric vehicle dataset,how many electric cars in the world,percentage of electric cars in the world,what percentage of cars are electric 2023